1.Operating principle:
The system collectors and thermal storage tank is integrally provided, the collector directly connected to the hot water storage tank, distribution tank optional auxiliary heating devices. Collector absorbs sunlight temperature rises, the collector and heat storage tank water temperature difference in density between different cycle power generation, namely thermal siphon physical phenomenon, prompting the hot water between the collector and the heat storage tank Natural circulation flow, eventually heating hot water storage water box.
Supply mode: free drowning water supply.
2.Schematic diagram: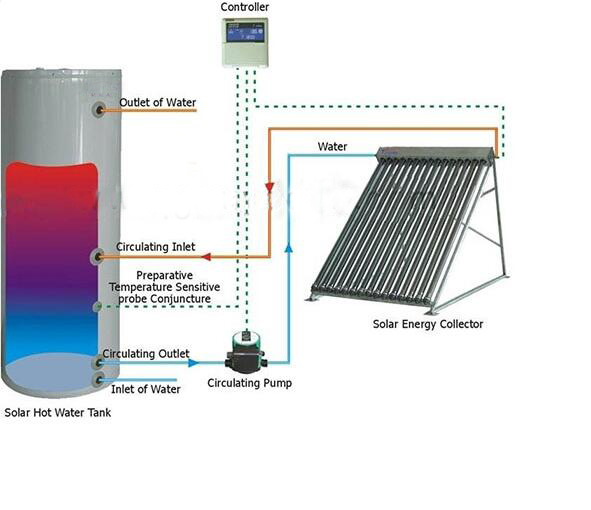 3.System advantage:
(1) The products are designed non-pressure, simple structure, easy to install.
(2) The products are installed on roof, good lighting effects, solar energy utilization is high.
(3) Low price, mature technology, Stable operation.
(4) general accessories, the market is easy to configure, easy to maintain.
(5) Can meet the home market.
4.System type:
Compact flat plate solar water heater, compact heat pipe solar water heater,u-pipe solar water heater ,vacuum tube solar water heater, compact copper coil solar water heater
5.System configuration:
Vacuum tube / heat pipe / U-pipe / plate, non-pressure thermal storage tank, frame, connecting pipes, pipe fittings, cotton insulation, fill the tank, the controller (optional), electrical heating (optional).
6.System Using:
can be used in villas, high-rise apartment for heating and hot water supply.
7.Photos: