1.Operating principle:
The system separates the collector and the heat storage tank. The tank can be arbitrarily placed, hot water storage tank replacement heating device and electric auxiliary heating devices. Collectors absorb solar energy light into heat water or heating medium circulates between the collector and the heat exchanger means to promote heat transfer between the collector and the natural flow of media devices, media devices through the heat exchanger and the heat storage tank the water heat exchange, thermal heat storage tank in the water. Hot water supply using top water supply to ensure that the hot and cold water supply homologous isobaric, easy to use and comfortable. Solar systems and conventional energy (electricity) combined to achieve all-weather hot water supply.
2.Schematic diagram: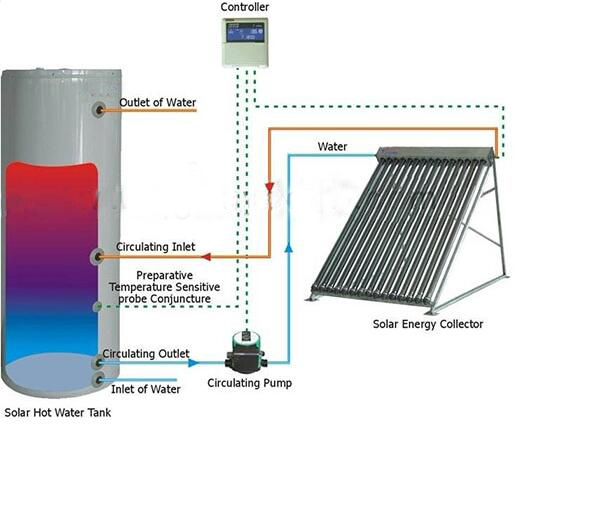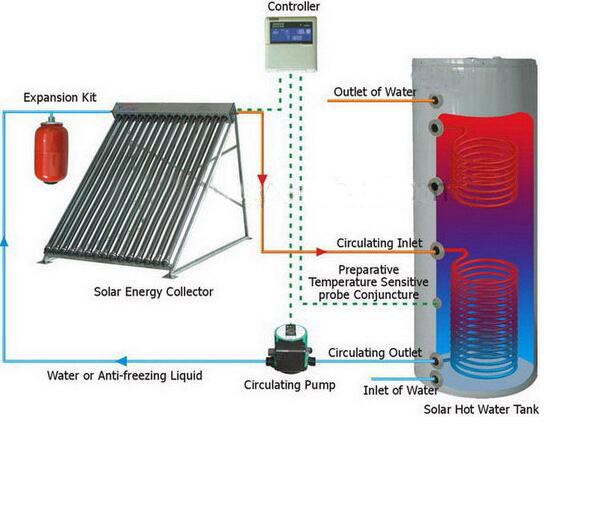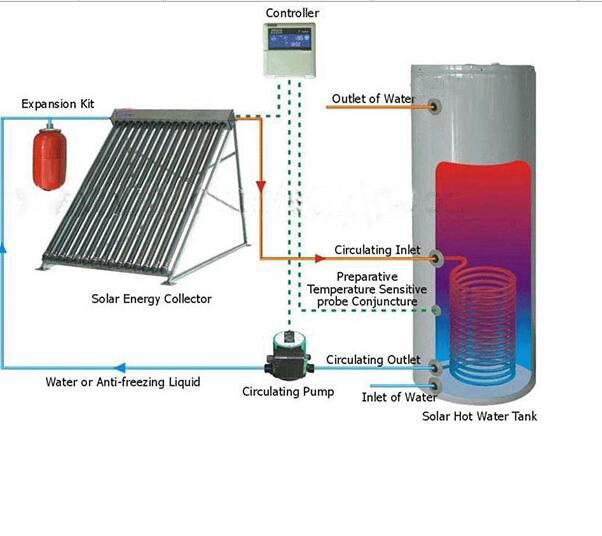 3.System advantage:
(1) The system separates the collector and the heat storage tank.Perfect combination with buildings.
(2) The collector can be installation on rooftop and wall or balcony.
(3) The collectors were used industry-leading technology to produce hot start fast, high efficiency, eliminate leakage risk.
(4) Inner tank:SUS304/316 stainless steel or enamel tank,high pressure, Corrosion resistance strong, health and safety.
(5) System pressure, closed loop, indirect heat transfer, water quality assurance, supply pressure.
(6) With customer requirements, structural condition of the house design hot water and heating.
(7) A set of systems, utilities metering, tenants can live with no billing disputes with the use, easy to manage.
4.System type:
Split flat plate water heater system, split heat pipe water heater system, U-type split water heater system ,split vacuum tube water heater system.
5.System configuration:
Collector (plate type, heat pipe type), pressurized thermal storage tank, controller, media circulation pipe, pipe fittings, circulating medium, electric heating, leakage protection plug, magnesium rod, pressure relief valves, insulation cotton.
6.System Using:
It can be used in villas, high-rise apartments, multi-storey apartment for heating and hot water supply.
7.Photos: